ARIA GAMING HEADSET
$59.99
L'Aria d'Arozzi est un casque en cuir PU rembourré avec une armature en aluminium. Grâce ses haut-parleurs de 50 mm et son microphone détachable, c'est un casque à la fois polyvalent et performant.
Description
Casque Gaming confortable et polyvalent
Compatible Hi-Fi avec pilotes 50 mm pour une qualité incroyable et un son de jeu immersif. Le cadre en aluminium massif est à la fois élégant, durable et fait pour durer. Les écouteurs et le bandeau sont en cuir PU rembourré qui protège confortablement vos oreilles et votre tête lors de vos longues sessions de jeu. L'Aria d'Arozzi est un casque polyvalent qui répondra aux besoins de chacun en matière de jeu.
Caractéristiques
Microphone détachable
Bouton de mise en sourdine du microphone
Contrôle du volume
Cadre en aluminium
Cuir PU rembourré
Haut-parleur 50mm
Cordon tressé de 2,2 m
Spécifications
Speaker
Magnet
NdFeB
Size
Φ50MM
Sensitivity
106dB ±3dB (@ 1KHZ)
Impedance
32Ω
Frequency Response
20HZ-20KHZ
Rated Power
20MW
Maximum Power
50MW
Microphone
Size
Φ6.0 *2.7mm
Sensitivity
-42dB ±3dB
Output Impedance
2.2KΩ
Frequency
100-16KHZ
Directivity
Omnidirectional
SNR
58DB
Dimensions
Headset Size
170 x 95 x 210 mm
6.69 x 3.74 x 8.27 inces
Cable: Braided Cable
2.2m
87 inches
Box Size
23.7 x 22.6 x 10.8 cm
9.33 x 8.9 x 4.25 inches
Gross Weight
415g
0.91 lbs
Gross Weight
364g
0.80 lbs
Connection
3.5mm Plugs (4-pole)
3.5mm Audio Splitter is included
Compatibility
PC, MAC and the most popular consoles like Xbox, PS4, WII U and Switch. It can also be used with your mobile and tablet.

Microphone détachable
Vous avez la possibilité d'enlever le micro si vous n'en avez pas besoin. Il se rebranche avec une prise de 3,5 mm.
Bouton de mise en sourdine du microphone / contrôle du volume
L'Aria d'Arozzi comporte un bouton muet facile d'accès au niveau du cordon tressé. Il dispose également d'un contrôle du volume des écouteurs.

Cuir PU rembourré
Le cuir PU rembourré situé au niveau des écouteurs et du bandeau permet de longues heures de jeu confortables.
Cadre en aluminium
Les accidents arrivent, mais lorsqu'ils se produisent, le fait d'avoir un cadre en aluminium permet de résister à des coups que le plastique ne pourrait pas supporter. Il est non seulement durable, mais aussi agréable à regarder.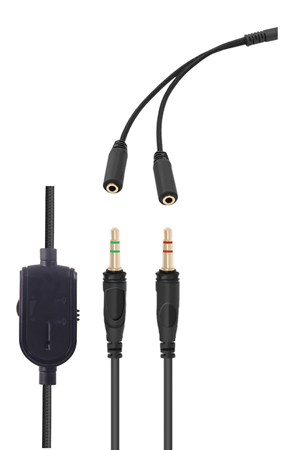 Répartiteur audio inclus
Grâce au répartiteur audio, le casque est compatible avec d'autres appareils, tels que les ordinateurs portables, les téléphones mobiles et les consoles.